Menara Seputeh
(also known as
Menara Seputih
) is an condominium located near Taman Seputeh, Jalan Klang Lama, Kuala Lumpur. It was opened in August 2005.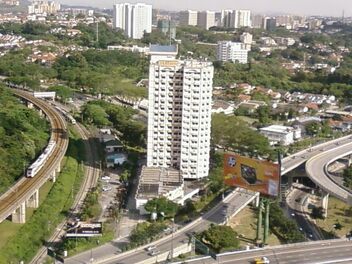 Building information
Edit
Building name: Menara Seputeh (a.k.a Menara Seputih)
Country: Malaysia
Construction ended: 2005
Nearby buildings:
Elevator filming strategy
Edit
Photography: Allowed
Security level: Requires visitor RFID card requested from the main office to go into the elevator hall.
Filming difficulty: Easy
Elevator specifications
Edit
There are 4 Schindler elevators in the building itself.
The elevators were installed with Schindler M-Line Touch sensitive fixtures.
While the elevator cab has no keycard scanner, but to access the hall, you must get a visitor's RFID card to access it.
However, one of the cabs has a security camera and the rest aren't. But filming inside the security camera protected cab is fine.