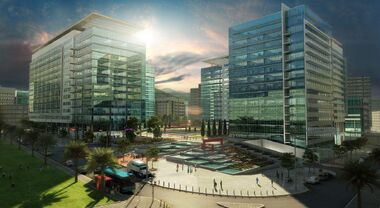 Holon Azrieli Center is a complex of 4 office buildings. The construction of buildings A and B ended in 2013. Buildings C and D are still in construction but their parking elevators completed.
Building Information
Edit
Building name: Holon Azrieli Center
Type: Office
Address: HaLahav street, Holon
Country: Isarel
Construction Ended: 2013
Nearby buildings:

Premium Center
Profit Center
Elevator filming strategy
Edit
Photography:

Not Allowed

Security level:

High

Filming difficulty:

Hard
Elevator specifications
Edit
There are 22 Kone traction elevators. 17 elevators are in service, 2 elevators are not in service and 9 elevators are not built yet. Only the elevators that in service are in the list.
Tiv Ta'am elevator
Building A Parking Elevators
Building A Elevators
Building B Parking Elevators
Building B Elevators
Building D Parking Elevators