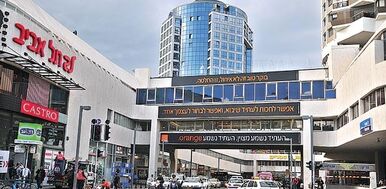 Dizengoff Center is a mall in Tel Aviv. This mall is the first mall in Israel.
Building Information
Edit
Building name: Dizengoff Center
Type: Mall
Address: 50 Dizengoff street, Tel Aviv
Country: Isarel
Construction Ended: 1976
Nearby buildings:

Frishman Parking Garage
2 Esther HaMalka street
Cinema Hotel
IN Dizengoff
Elevator filming strategy
Edit
Photography: Not Allowed
Security level: Medium
Filming difficulty: Medium
Elevator specifications
Edit
There are 9 elevators. 4 Electra traction elevators from 1976 that got modernized in the 1990's. 2 MP traction elevators from the 2010's. 3 Kone MRL traction elevators from 2013.
*The original 2 Electra elevators at the south building were demolished in 2013 and they were replaced with 2 Kone elevators.
North Building passenger elevators
North Building service elevators
South Building elevators
South Building parking elevators
Nike store staff elevator.