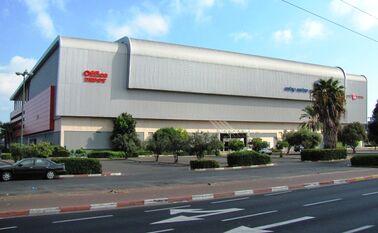 Ayalon Mall is a mall in Ramat Gan, Israel. This mall is the second mall in Israel. The mall opened in 1985 and in 2006 a second floor added. In 2014 and 2015 the second floors was extended.
Building Information
Edit
Building name: Ayalon Mall
Type: Mall
Address: 301 Aba Hilel street, Ramat Gan.
Country: Israel
Construction Ended: 1985
Nearby buildings:

28 Sheshet HaYamim street
Champion Tower
Design Center
Bnei Brak Train Station
BSR 3 Tower.
Elevator filming strategy
Edit
Photography: Not Allowed
Security level: Medium
Filming difficulty: Medium
Elevator specifications
Edit
There are 6 elevators. 1 Schindler hydraulic elevator from 1985(Modernized at the early 2000's), 1 Herouth hydraulic elevator from 2006 ,1 ThyssenKrupp traction elevator from 2006 ,1 Schindler 5500 MRL traction elevator with Linea 300 fixtures, 1 Kone MonoSpace MRL traction elevator with KSS 670 fixtures and 1 Kone MonoSpace MRL traction elevator with KSS D40 fixtures.
Passenger Elevator
Freight Elevator
Cinema Elevator
New Passenger Elevator
H&M Elevator
Zara Elevator